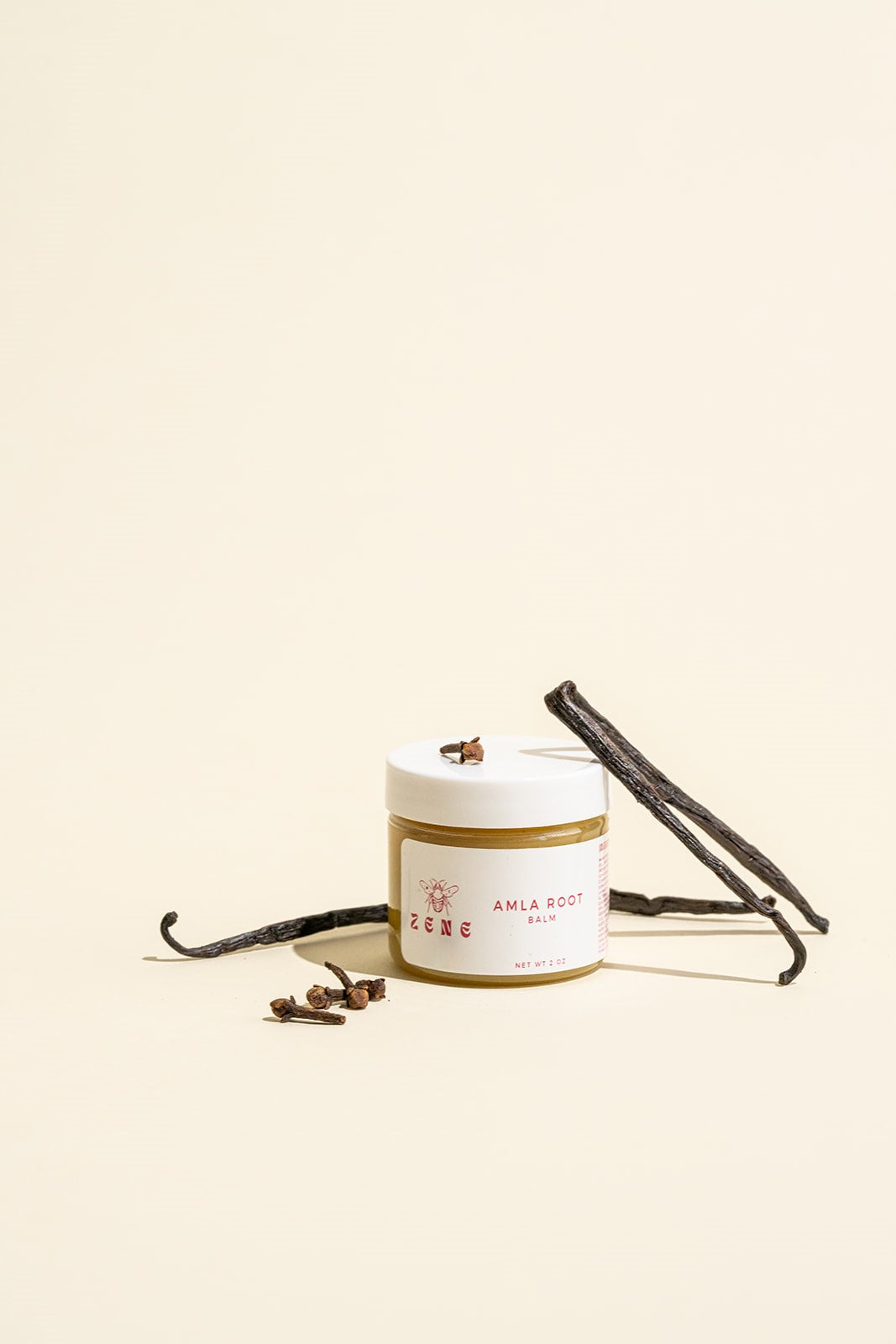 Description
A SCALP CONDITIONER PROVIDING THE ROOT WITH ESSENTIAL NUTRIENTS, VITAMINS, AND MINERALS TO PROMOTE HEALTHY GROWING HAIR.
OUR AMLA ROOT BALM IS FORMULATED WITH HAIR LOVING ESSENTIAL OILS, HERBAL EXTRACTS, AND FRUIT OILS. THIS BALM CAN SOOTH THE SCALP, TREAT THINNING HAIR, BALD SPOTS AND REGROW DAMAGED ROOTS. 
KEY INGREDIENTS
AMLA  RICH SOURCE OF ANTIOXIDANTS AND CONTAINS KAEMPFEROL, FLAVONOIDS, AND GALLIC ACID, ALL OF WHICH MAY ENHANCE HAIR TEXTURE.
MANGO BUTTER  FORMS A PROTECTIVE COAT OVER YOUR HAIR STRANDS AND FORTIFIES IT AGAINST BREAKAGE.
ALOE VERA  CONTAINS PROTEOLYTIC ENZYMES AND SALICYLIC ACID THAT DISSOLVES EXCESS DEAD SKIN CELLS TO SOOTHE ITCHINESS OF AND REDUCE INFLAMMATION.
MORINGA  DEEPLY CONDITION THE SCALP AND STRENGTHENS HAIR FOLLICLES TO PROMOTE HEALTHY HAIR.
BLACK CUMIN  RICH IN OMEGA 3 AND 6 BIOMOLECULES THAT ENCOURAGE BLOOD CIRCULATION ESSENTIAL FOR HAIR.
FULL INGREDIENTS
MANGIFERA INDICA (MANGO) SEED BUTTER, RICINUS COMMUNIS (CASTOR) SEED OIL, COCOS NUCIFERA (COCONUT) OIL, CERA ALBA (BEESWAX), AZADIRACHTA INDICA (NEEM) OIL, MORINGA OLEIFERA (MORINGA) OIL, SALVIA HISPANICA (CHIA SEED) OIL, PRUNUS CERASUS (SOUR CHERRY) OIL, NIGELLA SATIVA (BLACK CUMIN) OIL, ALPHA TOCOPHEROL (VITAMIN E), ALOE BARBADENSIS MILLER (ALOE VERA) EXTRACT, NARDOSTACHYS JATAMANSI (SPIKENARD ROOT) EXTRACT, LAVANDULA ANGUSTIFOLIA (LAVENDER) ESSENTIAL OIL, MELALEUCA ALTERNIFOLIA (TEA TREE) ESSENTIAL OIL, VANILLA PLANIFOLIA (VANILLA) ESSENTIAL OIL, MENTHA PIPERITA (PEPPERMINT) ESSENTIAL OIL, MENTHA SPICATA (SPEARMINT) ESSENTIAL OIL, CITRUS BERGAMIA (BERGAMOT) ESSENTIAL OIL, PIPER NIGRUM (BLACK PEPPER) ESSENTIAL OIL.
OILS INFUSED WITH: PHYLLANTHUS EMBLICA (AMLA), ARCTIUM LAPPA (BURDOCK ROOT), EQUISETUM (HORSETAIL) HERB, URTICA DIOICA (STINGING NETTLE), SALVIA OFFICINALIS (SAGE) HERB, HIBISCUS ROSA-SINENSIS (HIBISCUS) FLOWERS, TRIGONELLA FOENUM-GRAECUM (FENUGREEK), SERENOA REPENS (SAW PALMETTO), SYZYGIUM AROMATICUM (CLOVE), SALVIA ROSMARINUS (ROSEMARY), BACOPA MONNIERA (BRAHMI), THYMUS VULGARIS (THYME), OCIMUM TENUIFLORUM (HOLY BASIL).
HOW TO USE
APPLY DIRECTLY TO THE SCALP AND RUB IN WITH FINGERS FOR MAXIMUM PENETRATION OF BALM.
WORRY FREE GUARANTEE
WE PROMISE YOU'LL LOVE EVERYTHING IN YOUR ORDER IF NOT, JUST LET US KNOW AND WE'LL MAKE IT RIGHT. PLEASE READ SHIPPING AND RETURN POLICIES PRIOR TO PLACING AN ORDER.
PRODUCT DISCLAIMER
IT IS RECOMMENDED TO PERFORM A PATCH TEST BEFORE USING THIS PRODUCT INTO YOUR ROUTINE.
**IF ANY REDNESS, BURNING, ITCHING, BLISTERING, OR IRRITATION IS OBSERVED AT ANY TIME THROUGHOUT USING PRODUCT, PLEASE DISCONTINUE THE USE OF THIS PRODUCT. **