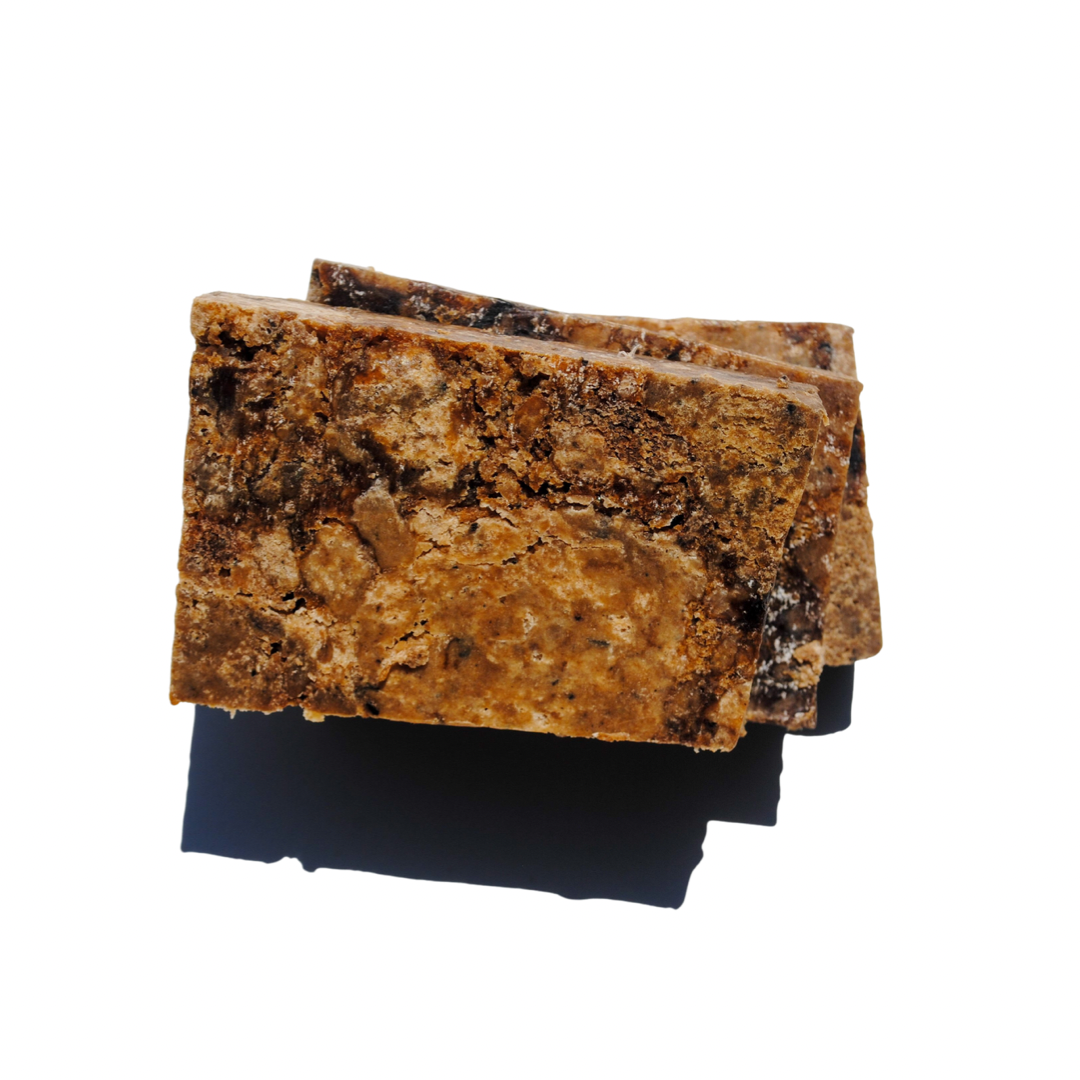 Description
AN ANTI-BLEMISH, PURIFYING, AND HEALING BATH SOAP FORMULATED TO TARGET ACNE-PRONE, SENSITIVE AND TROUBLED SKIN. THIS SOAP BALANCES OILY SKIN FOR A BRIGHTER, CLEAR COMPLEXION. SUITABLE FOR BODY ACNE.
INGREDIENTS
WATER, COCOS NUCIFERA (COCONUT) OIL, BUTYROSPERMUM PARKII (SHEA) BUTTER, PLANTAGO MAJOR (PLANTAIN) SKINS AND COCOA POD ASH.
HOW TO USE
USE DAILY. LATHER IN WASHCLOTH OR SPONGE, THEN RINSE YOUR BODY CLEAN. ALWAYS MOISTURIZE BODY AFTER USE TO PREVENT DRYNESS. 
MAIN BENEFITS
CONTAINS VITAMIN E, CAPRIC, AND CAPRYLIC ACID THAT MAY CALM IRRITATED AND INFLAMED SKIN, AS WELL AS BALANCING THE PH OF THE SKIN.
CONTAINS FATTY ACIDS THAT MAY REDUCE STRETCH MARKS, PAST SKIN WOUNDS, SCARS, AND BLEMISHES.
HIGH IN ANTIOXIDANTS SUCH AS QUERCETIN, PROTOCATECHUIC ACID, RUTIN, CATECHINS, TANNIS AND GALLIC ACID THAT BOOST YOUR COLLAGEN PRODUCTION THAT MAY PREVENT PREMATURE WRINKLES.
MAY CLEAR BODY ACNE LIKE PIMPLES, WHITEHEADS, BLACKHEADS, AND SKIN CONDITIONS SUCH AS PSORIASIS DERMATITIS, AND ECZEMA.
HAS EXFOLIATING PROPERTIES TO REMOVE DEAD SKIN CELLS TO IMPROVE THE APPEARANCE, OF ROUGH SKIN.
WORRY FREE GUARANTEE
WE PROMISE YOU'LL LOVE EVERYTHING IN YOUR ORDER IF NOT, JUST LET US KNOW AND WE'LL MAKE IT RIGHT. PLEASE READ SHIPPING AND RETURN POLICIES PRIOR TO PLACING AN ORDER.
PRODUCT DISCLAIMER
IT IS RECOMMENDED TO PERFORM A PATCH TEST BEFORE USING THIS PRODUCT INTO YOUR ROUTINE.
**IF ANY REDNESS, BURNING, ITCHING, BLISTERING, OR IRRITATION IS OBSERVED AT ANY TIME THROUGHOUT USING PRODUCT, PLEASE DISCONTINUE THE USE OF THIS PRODUCT. **