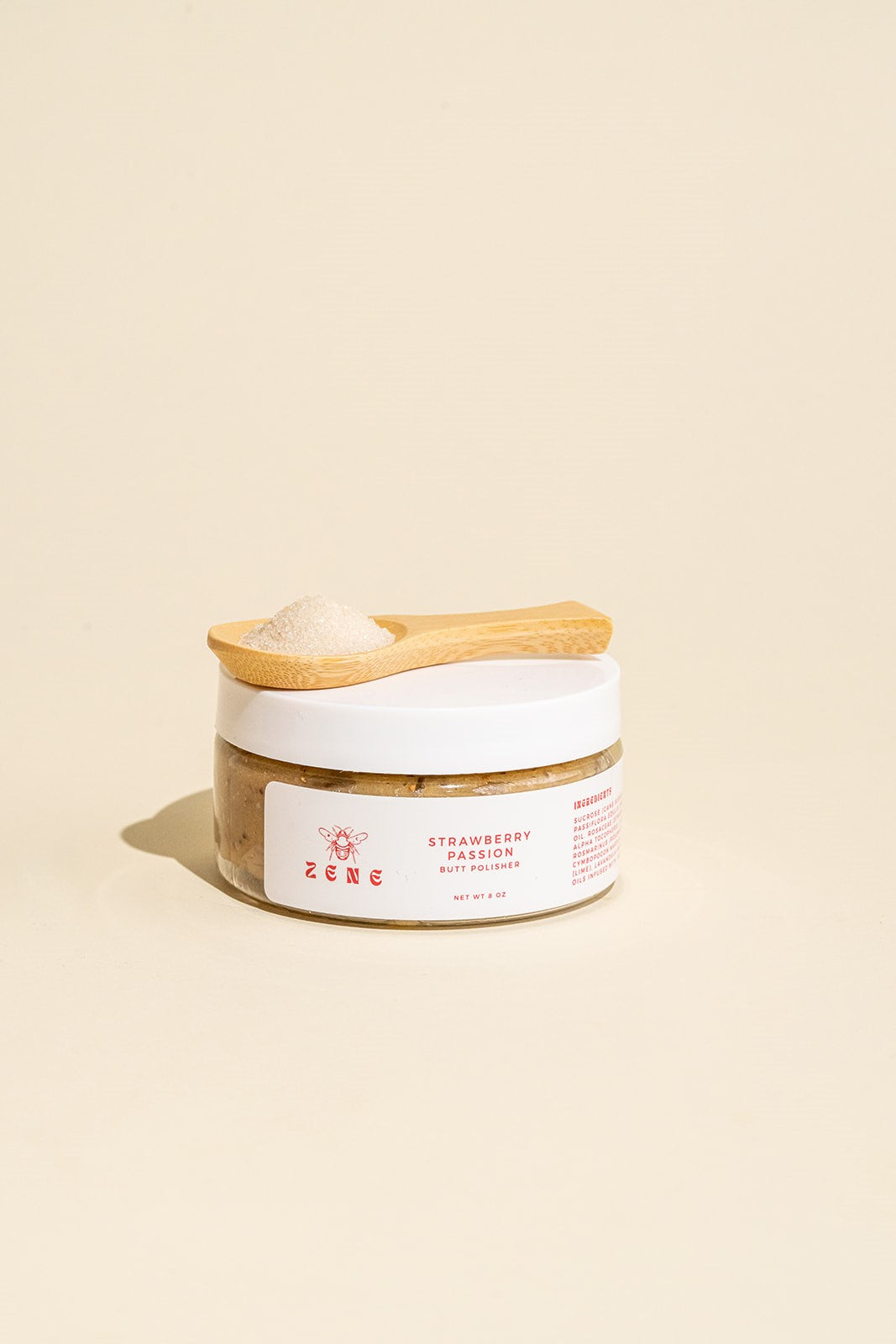 STRAWBERRY PASSION BUTT POLISHER
Description
GIVE YOUR BUM AN EXTRA GLOW WITH STRAWBERRY PASSION BUTT POLISHER. THIS WHIPPED POLISHER IS FORMULATED WITH AUTHENTIC STRAWBERRY POWDER THAT IS RICH IN POLYPHENOLS AND VITAMIN C. THIS WILL PROVIDE PROTECTION FOR THE SKIN WITH ADDED SKIN-SOOTHING PROPERTIES. IT CONTAINS STRAWBERRY SEEDS TO INCREASE THE EXFOLIATION.
KEY INGREDIENTS
SHEA BUTTER PACKED WITH VITAMINS A AND E TO TREAT SENSITIVE AND IRRITATED SKIN.
STRAWBERRY POWDER  RICH IN VITAMIN C, TO ASSIST WITH THE APPEARANCE OF DARK SPOTS, COLLAGEN PRODUCTION, AND ELIMINATING BLEMISHES.
PASSIONFRUIT OIL  NATURAL EMOLLIENT WITH THE ABILITY TO MOISTURIZE AS IT EASILY PENETRATES DEEP INTO THE SKIN WHILE PREVENTING MOISTURE LOSS.
ROSEMARY EXTRACT  HAS ANTI-INFLAMMATORY PROPERTIES TO HELP REDUCE SWELLING AND PUFFINESS OF THE SKIN
CHAMOMILE FLOWERS  CONTAINS ANTIBACTERIAL AND ANTI ASTRINGENT PROPERTIES TO TREAT ACTIVE BREAKOUTS, REDUCING BACTERIA AND CLEANSING THE SKIN.
FULL INGREDIENTS
SUCROSE (CANE SUGAR), BUTYROSPERMUM PARKII (SHEA) NUT BUTTER, PASSIFLORA EDULIS (PASSIONFRUIT) OIL, PRUNUS DULCIS (SWEET ALMOND) OIL, ROSACEAE (STRAWBERRY) POWDER, ROSACEAE (STRAWBERRY) SEEDS, ALPHA TOCOPHEROL (VITAMIN E), GLYCEROL (VEGETABLE GLYCERIN), SALVIA ROSMARINUS (ROSEMARY) EXTRACT, CITRUS JUNOS (YUZU) ESSENTIAL OIL, CYMBOPOGON NARDUS (CITRONELLA) ESSENTIAL OIL, CITRUS AURANTIFOLIA (LIME), LAVANDULA ANGUSTIFOLIA (LAVENDER) ESSENTIAL OIL.
OILS INFUSED WITH: MATRICARIA RECUTITA (CHAMOMILE) FLOWERS.
HOW TO USE
MASSAGE A HANDFUL OF BUTT POLISHER UNDER AND AROUND YOUR CHEEKS. LET THE POLISHER SIT FOR A MINUTE OR TWO FOR COMPLETE HYDRATION. RINSE OFF­. USE DAILY.
WORRY FREE GUARANTEE
WE PROMISE YOU'LL LOVE EVERYTHING IN YOUR ORDER IF NOT, JUST LET US KNOW AND WE'LL MAKE IT RIGHT. PLEASE READ SHIPPING AND RETURN POLICIES PRIOR TO PLACING AN ORDER.
PRODUCT DISCLAIMER
IT IS RECOMMENDED TO PERFORM A PATCH TEST BEFORE USING THIS PRODUCT INTO YOUR ROUTINE.
**IF ANY REDNESS, BURNING, ITCHING, BLISTERING, OR IRRITATION IS OBSERVED AT ANY TIME THROUGHOUT USING PRODUCT, PLEASE DISCONTINUE THE USE OF THIS PRODUCT. **
STRAWBERRY PASSION BUTT POLISHER