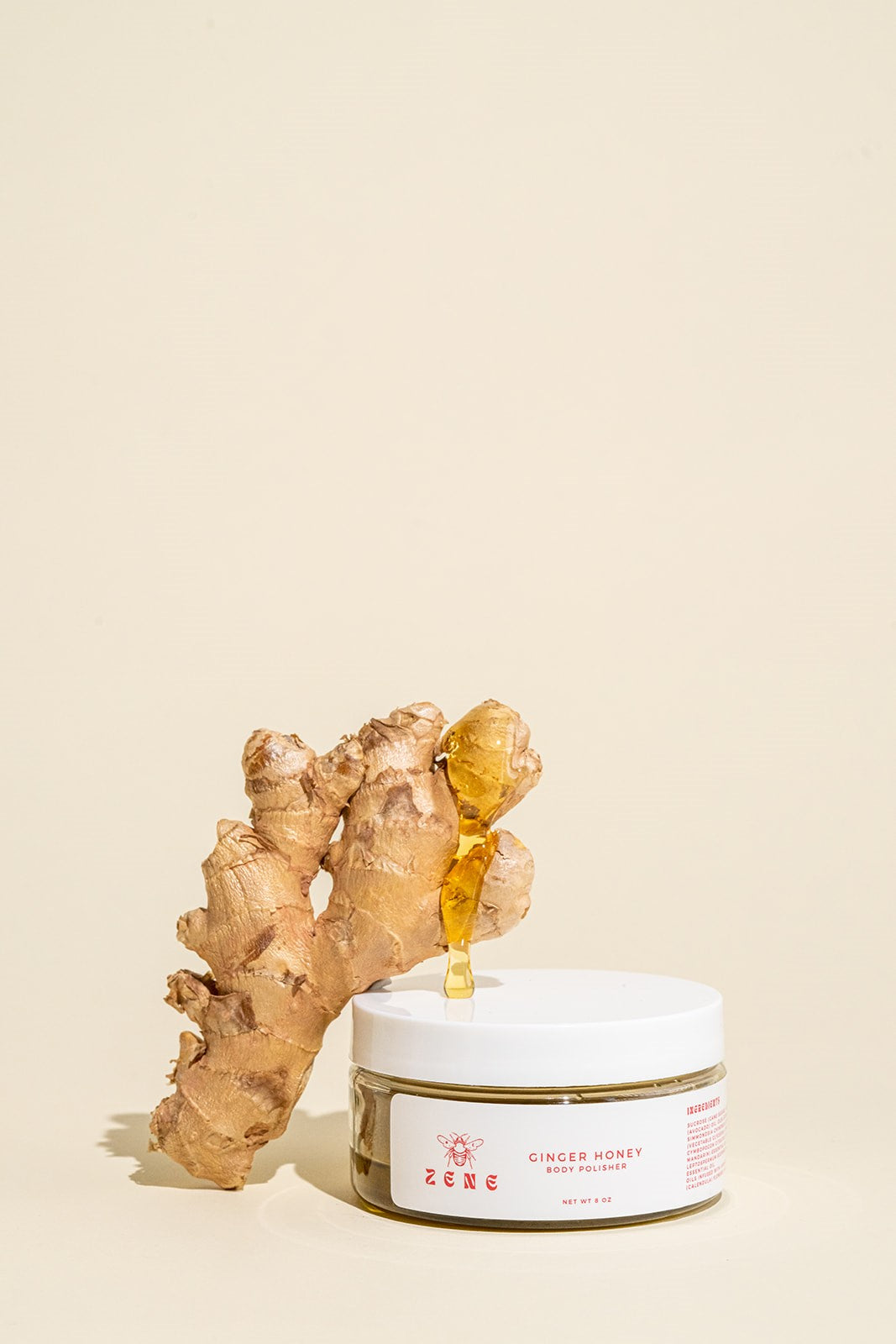 GINGER HONEY BODY POLISHER
Description
THIS GENTLE BODY POLISHER BLENDED WITH GINGER AND RAW HONEY, CREATES A PERFECT BALANCE FOR REJUVENATED, GLOWING SKIN LEAVING IT SUPPLE AND SOFT TO TOUCH. SCRUB AWAY ALL IMPURITIES THAT KEEPS YOU AWAY FROM CLEAR, GLOWING SKIN.
KEY INGREDIENTS
RAW HONEY  A NATURAL HUMECTANT WHICH HELPS YOUR SKIN ABSORB AND RETAIN MOISTURE.
HEMP SEED  CAN PROTECT AGAINST DIFFERENT ENVIRONMENTAL FACTORS AND MAY HELP REDUCE THE APPEARANCE OF FINE LINES AND WRINKLES.
GINGER ESSENTIAL OIL  HAS PROPERTIES TO SOOTHE REDNESS AND ELIMINATE BACTERIA THAT CAUSES ACNE.
SENCHA GREEN TEA  CONTAINS ANTIOXIDANT EPIGALLOCATECHIN-3-GALLATE, THAT MAY FIGHT AGAINST INFLAMMATION, ACNE, ROSACEA AND OTHER SKIN CONDITIONS.
CALENDULA  CONTAINS CAROTENOIDS AND FLAVONOIDS, ANTIOXIDANTS THAT HELP WOUNDS HEAL FASTER, AND PLUMP SKIN THROUGH HYDRATION AND CIRCULATION.
FULL INGREDIENTS
SUCROSE (CANE SUGAR), APIS MELLIFERA (RAW HONEY), PERSEA AMERICANA (AVOCADO) OIL, OLEA EUROPAEA (OLIVE) OIL, CANNABIS SATIVA (HEMP) SEED OIL, SIMMONDSIA CHINENSIS (JOJOBA) OIL, ALPHA TOCOPHEROL (VITAMIN E), GLYCEROL (VEGETABLE GLYCERIN), ZINGIBER OFFICINALE (GINGER) ROOT ESSENTIAL OIL, CYMBOPOGON CITRATUS (LEMONGRASS) ESSENTIAL OIL, CITRUS RETICULATA (RED MANDARIN) ESSENTIAL OIL, DAUCUS CAROTA (WILD CARROT SEED) ESSENTIAL OIL, LEPTOSPERMUM SCOPARIUM (MANUKA) ESSENTIAL OIL, LAMIACEAE (CLARY SAGE) ESSENTIAL OIL.
OILS INFUSED WITH: SINENSIS (SENCHA GREEN) TEA LEAVES, CALENDULA OFFICINALE (CALENDULA) FLOWERS, SYMPHYTUM OFFICINALE (COMFREY) HERB.
HOW TO USE
MASSAGE A HANDFUL OF BODY POLISHER INTO SKIN. LET THE POLISHER SIT FOR A MINUTE OR TWO FOR COMPLETE HYDRATION. RINSE O­FF. USE DAILY
WORRY FREE GUARANTEE
WE PROMISE YOU'LL LOVE EVERYTHING IN YOUR ORDER IF NOT, JUST LET US KNOW AND WE'LL MAKE IT RIGHT. PLEASE READ SHIPPING AND RETURN POLICIES PRIOR TO PLACING AN ORDER.
PRODUCT DISCLAIMER
IT IS RECOMMENDED TO PERFORM A PATCH TEST BEFORE USING THIS PRODUCT INTO YOUR ROUTINE.
**IF ANY REDNESS, BURNING, ITCHING, BLISTERING, OR IRRITATION IS OBSERVED AT ANY TIME THROUGHOUT USING PRODUCT, PLEASE DISCONTINUE THE USE OF THIS PRODUCT. **
GINGER HONEY BODY POLISHER