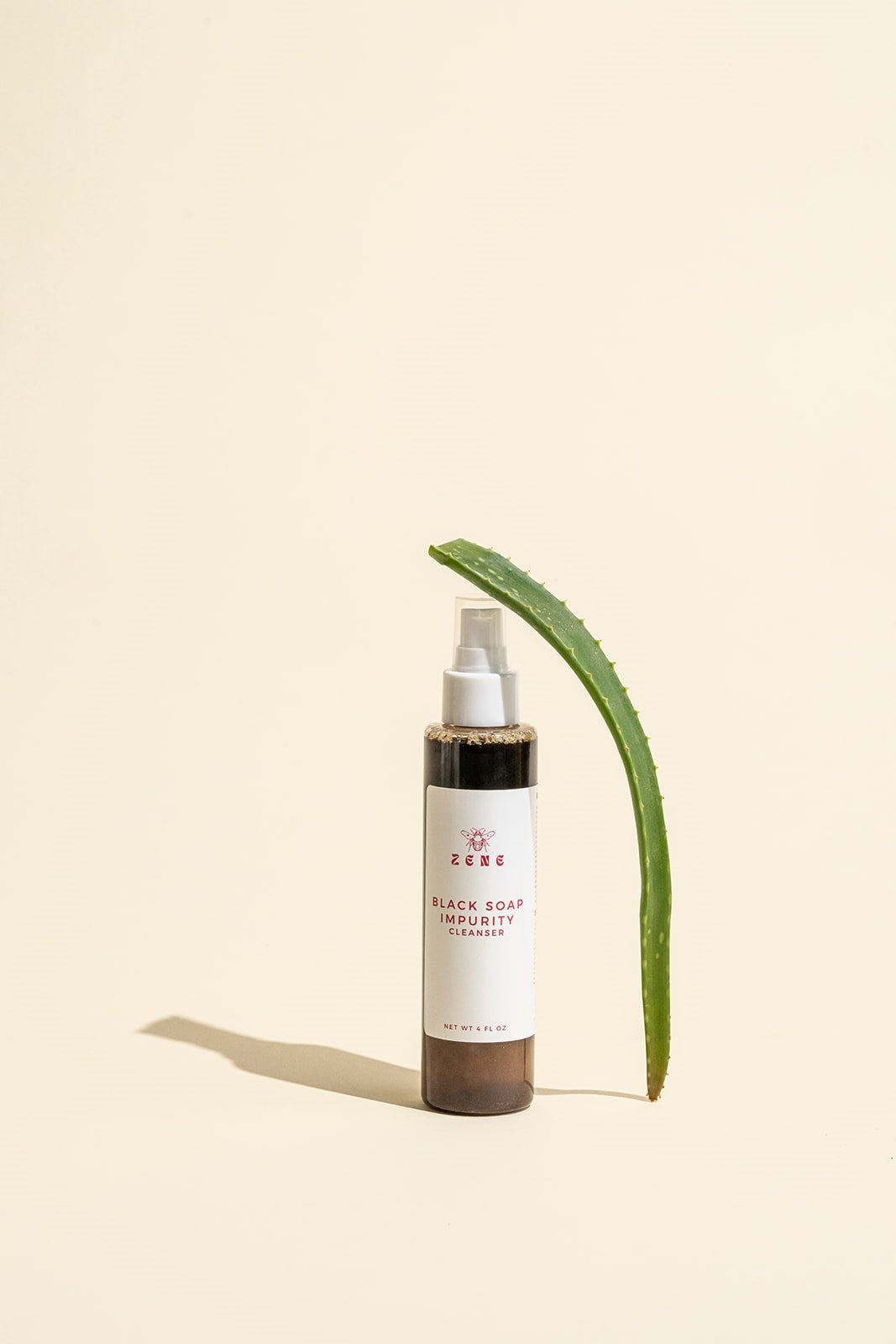 BLACK SOAP IMPURITY CLEANSER
Description
A UNIQUE HIGH PERFORMING BLACK SOAP CLEANSER THAT'LL HYDRATE YOUR SKIN WHILE DEEPLY CLEANSING ALL OF ITS IMPURITIES. THIS CLEANSER GENTLY DISSOLVES DIRT AND BACTERIA, WHILE VISIBLY MINIMIZING REDNESS, AND INFLAMMATION TO GIVE YOU CRYSTAL CLEAR SKIN. GET A FRESH CLEAN FEELING WITHOUT STRIPPING YOUR SKIN OF ITS NATURAL PROPERTIES.
KEY INGREDIENTS
AFRICAN BLACK SOAP  RICH IN VITAMIN E AND OTHER EMOLLIENTS TO HELP EXFOLIATE YOUR SKIN, GENTLY RIDDING YOUR SKIN OF DIRT AND DEAD SKIN CELLS.
ALOE VERA JUICE  CONTAINS ANTIOXIDANTS, ENZYMES, VITAMINS A AND C THAT CAN HELP TREAT BURNS, ACNE AND DRY SKIN.
RAW HONEY  A NATURAL EXFOLIATOR THAT ELIMINATES DRY, DULL SKIN TO REVEAL NEW SKIN CELLS UNDERNEATH.
CUCUMBER EXTRACT  HAS SKIN-CONDITIONING PROPERTIES THAT CAN REDUCE INFLAMMATION AND CALM ANY SKIN REDNESS AND IRRITATION.
LICORICE EXTRACT  CONTAINS LIQUIRITIN, AN ACTIVE COMPOUND THAT HELPS TO DISPERSE AND REMOVE UNWANTED EXISTING MELANIN IN THE SKIN.
FULL INGREDIENTS
AQUA (WATER), OSE DUDU (AFRICAN BLACK SOAP), ALOE BARBADENSIS MILLER (ALOE VERA) LEAF JUICE, APIS MELLIFERA (RAW HONEY),CUCUMIS SATIVUS (CUCUMBER) EXTRACT, ANANAS COMOSUS (PINEAPPLE) EXTRACT, CARICA PAPAYA (PAPAYA) EXTRACT, CAMELLIA SINENSIS (GREEN TEA) EXTRACT, ECHINACEA ANGUSTIFOLIA (ECHINACEA) EXTRACT, SALVIA ROSMARINUS (ROSEMARY) EXTRACT, AVENA SATIVA (COLLOIDAL OAT) POWDER, STELLARIA MEDIA (CHICKWEED) POWDER, PLANTAGO (PLANTAIN HERB) POWDER, ACHILLEA MILLEFOLIUM (YARROW) POWDER, THYMUS VULGARIS (THYME) POWDER, GLYCYRRHIZA GLABRA (LICORICE ROOT) POWDER, SALIX ALBA (WHITE WILLOW BARK) POWDER, TOCOPHEROL (VITAMIN E), GLYCEROL (VEGETABLE GLYCERIN), AQUA (WATER), SODIUM LEVULINATE, SODIUM ANISATE.
HOW TO USE
USE AT LEAST TWO TO THREE TIMES A WEEK. CLEANSE IN THE MORNING AND NIGHT. RINSE FACE WITH LUKEWARM WATER TO OPEN PORES, THEN GENTLY MASSAGE CLEANSER IN CIRCULAR MOTIONS ON WET SKIN. RINSE CLEANSER O­FF WITH COLD WATER.
AFTER CLEANSING COMPLETE SKINCARE REGIMEN USING OUR ROSEMARY HYDRATING TONIC, HYALURONIC DEW DROPS, AND MANUKA RECOVERY FACIAL OIL. DURING THE DAY, FOLLOW WITH SUNSCREEN.
TRY TO STAY AWAY FROM MOISTURIZERS WITH SPF PROTECTION.
WORRY FREE GUARANTEE
WE PROMISE YOU'LL LOVE EVERYTHING IN YOUR ORDER IF NOT, JUST LET US KNOW AND WE'LL MAKE IT RIGHT. PLEASE READ SHIPPING AND RETURN POLICIES PRIOR TO PLACING AN ORDER.
PRODUCT DISCLAIMER
IT IS RECOMMENDED TO PERFORM A PATCH TEST BEFORE USING THIS PRODUCT INTO YOUR ROUTINE.
**IF ANY REDNESS, BURNING, ITCHING, BLISTERING, OR IRRITATION IS OBSERVED AT ANY TIME THROUGHOUT USING PRODUCT, PLEASE DISCONTINUE THE USE OF THIS PRODUCT. **
BLACK SOAP IMPURITY CLEANSER